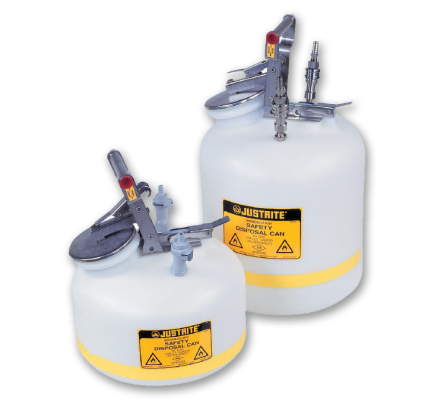 The type of waste container(s) used is typically determined by the company EHS department or the waste handling company that you work with. If you would like to source containers from us, we have available as standard items, the containers listed below. If you want a container for a specific manifold that is not listed, let us know, and we will source it for you.
Justrite Centura Waste Containers
FM approved, the containers are designed with a spring-loaded closure that opens when contents are subjected to pressure, for explosion safety. Containers are molded of translucent Polyethylene to show fluid level. When ordering, note that quick disconnects will only mate with like materials, i.e., stainless disconnects with stainless. Note that the disconnects mounted on all containers have a 3/8″ drain orifice. Also note that Justrite® containers should be grounded with Antistatic Wires while in use, and especially while emptying the container.